Thanks for wanting to learn a bit more about me.
Truth be told "About Pages" are actually my favorite part of almost every website.  I would go as far as to say – I am passionate about, "About Pages".  So i hope this one doesn't let you down.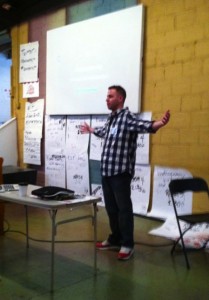 I want to do two things here: First – I want to give you an idea of what you can expect from Random Awesomeness.  Second – I want to tell you a little about myself.
What to Expect:
Insights and observations about:  Entrepreneurship, word of mouth marketing, building brand loyalists, Buzz / "New PR", customer development, and other things relevant to entrepreneurs.
You should also expect posts about random things I observe in my day-to-day.  For example, I love social experiments like Steven Little's "Milkshake Movement".  From time to I will also outline fun debates I find myself involved in (i.e. Is it acceptable for a 24 year old male to serve a girl dinner with heavy duty paper plates and plastic utensils?).
Frequency?  I most likely won't blog more than once a week, but promise to never (ever) let it be more than a month between posts.
You might see the occasional swear on this site.  Please don't let it upset you.  I type like I talk, and sometimes I get so damn excited that I swear.  Its an expression of my passion and the point of this blog is to share that passion, censoring myself would only be a detriment to you (the reader).
More About Me (Jonathan Kay)
I am currently the Ambassador of Buzz at a kick ass company called Grasshopper.  I started there in early 2009 (back when they were GotVMail), and was brought on to create this crazy Buzz / Word of Mouth Marketing function.  Its been quite a ride and I am forever grateful to those guys for introducing me to the world of entrepreneurship.  A world I have quickly, and deeply fallen in love with.  Here are a few more tidbits:
I am wildly curious, I ask a lot of questions, and I love learning (not classroom style, but real life learning…via mistakes, observations, and listening).
I love trying new things, and always enjoy crossing a new "first" off the list (thanks mom).
I believe strongly in feedback and go out of my way to provide both positive & negative feedback in many situations.
I really enjoy awkward situations (which is probably why I am so "good" at networking).
I love story telling – both as it pertains to brands and saturday morning brunches.
I am an avid sports fan (not a "Boston Sports Fan", but an avid sports fan), meaning I will watch 2 good (non-Boston) sports teams on a random Tuesday night, and enjoy it.  But for the record, my teams are: Celtics, Red Sox, and the NY Giants (in no particular order).
I really enjoy adventuring (and that does not necessarily involve traveling).
Music makes me happy.
On a whole, I really enjoy my life and go out of my way to continue to do so.
Questions? Comments? Concerns? – All you have to do is ask.