I would like to start by establishing a few facts:
FutureM is a week long mashup of events in Boston designed to spark discussions around the "Future of Marketing".  It attracts a diverse audience as event topics range from marketing, design, development, media, mobile, to simply general entrepreneurship.
FutureM is Boston's attempt at creating a South by South West (SXSW) like event / environment.
This is FutureM's 2nd year.
I participated in FutureM last year both as an attendee and as an event organizer (I helped organize / spoke at 2 events, and attended 3-4)
FutureM was free last year, and costs $100 this year.
If I wanted to attend my company, Grasshopper, would absolutely no questions asked pay for my ticket.
Last year when I heard FutureM was coming together I immediately hopped on board, reached out to my contacts, and started getting involved.  I deeply (to my core) love Boston.  The energy and enthusiasm of our entrepreneur scene here is just spectacular,.  It motivates me almost every day and I would do anything to help make it even better.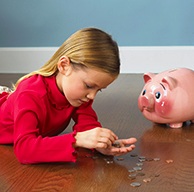 Let me be clear about something before I continue this post, I truly believe in what (I think) FutureM is all about.  Its wildly important to constantly challenge your beliefs, try new things, and learn from other people.  Its why I so often try crazy shit at Grasshopper, and then share those successes or failures with the community.  And believe me, If i didn't care I certainly wouldn't be taking the time to write this post (as my free time is very rare).
Having said that, I want to share with you 3 reasons I will not pay (and hence not attend) FutureM this year:
Don't Charge Before You Fix the Bugs
Last year (FutureM's first year) I had a mediocre experience….lets say 6.8 out of 10.  Which by the way is completely okay, and even expected.  The first year, or first time you do anything it is bumpy, and you certainly make mistakes.  Entrepreneurs understand that more than anyone.  But that is also why the next experience is so important.  People expect you to rebound and learn from your mistakes.  If you don't make the necessary improvements, you will lose your audiences attention forever.  Its the same in a startup right?  If you don't listen to your beta users (your earlyvangelists) and fix the problems they encounter – you will not having paying customers and you will not succeed.
This is only FutureM's 2nd crack at this.  They haven't proven to me (their Beta user) that they have fixed the bugs, so why should I start paying them?  If they had held off on the trigger finger for a year or two, and proved that they listened and acted on peoples feedback, this might be an entirely different post.
They haven't even given us an opportunity to have a positive experience.  I feel like my free-trial got cut short.
It Feels Very Corporate & Salesy
On their home page it says "FutureM is about them".  I call bullshit.  This year it is starting to feel like its much more about MITX or bigger companies like Hubspot, than about us (the community).  If you look at the screen shot from the "Buy a Pass" page you will get an idea of what i'm talking about.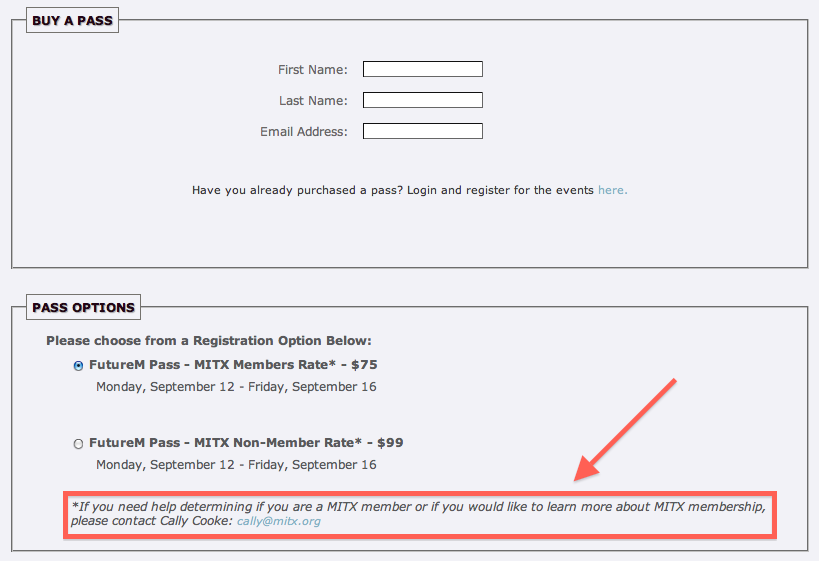 First, if you are an MITX member you get a discount.  What?  I don't get this, are you trying to incentivize people to be an MITX member, or are you trying to rally the community around a great idea?  Its very unclear.  If you really wanted to say "Thank You" to your members, isn't there a much more stealth / less public (salesy) way to go about doing it?  Say email them a discount code?  This almost seems like a smack in the face for non members.
But what really made me laugh out loud (yes i just typed "lol"), was this sales pitch on the bottom (follow the red arrow).  "If you need help determining if you are an MITX Member…" – yikes guys.  I mean, I am sure if you are paying them ($150-$4,000) every year you are definitely aware that you are a member.  It is just a blatant sales pitch, and well it makes me feel a bit dirty about the whole situation.
Does anyone have any idea the organization who is behind SXSW?  Didn't think so.
What If I Just Want to Attend 1 or 2 Events?
One thing that can make FutureM difficult is that the events are all day long (starting at 8:30am), and scattered throughout Boston & Cambridge.  So for people with full time jobs (the target audience for this event) it can be really hard to find time during the day to travel to a handful of events.  It can also be difficult to get from event to event as there is not one central hub.  So my colleague and I for instance, could very easily justify making it out to a couple events.  But then it is $50 an event?!  On a normal Boston week there are more events than you can even comprehend being put on by cool startups for FREE.  So where is my motivation?  MITX advertises that you get access to 50+ events for your $100.  I would challenge that any human could physically make it to even close to that many events.  Its logistically impossible.  The reality is that most people want to dabble, and this pricing makes that difficult.
I was also surprised that there was no student pricing?  I mean we live in a city which is driven more by our universities than almost any other city in the country.  How can we not support them learning from a week like this?  $100 in college would have gotten me through an entire week of eating and drinking, I certainly would not have used it to buy a week long pass to a conference.
———————-
I would simply challenge MITX (or any organization charging money for that matter) to be more transparent and really explain the $100 cost.  I for one feel more comfortable with things when i understand the "why".  In this instance, MITX is actually not throwing any of the events.  All of the events during FutureM are organized, funded, and executed by the companies who volunteer to get involved (like we did last year).  So where does the money go?  I thought these companies were stepping up, and volunteering their time so it could be free for the community.
Transparency goes a long way MITX, maybe I will see you next year….