Have you ever noticed how many different brands seem to be telling you to follow them on twitter or demanding you like them on Facebook?
I call bullshit.
Instead of speaking AT me, I challenge you to tell me why? Why should I "like" you?  Why should I share your brand with all of my friends?  I am not 12 years old, and you are not my older brother so "because I said so" doesn't really work anymore.
Its interesting because I feel like 5+ years ago things were much simpler.  Very much like the age old game of "Hot or Not", brands would simply say here is what we do – do you buy or not?  And then move on to the next one.
Its not like that anymore.
Its become so easy, and so mindless, for brands to engage and ask you "Buy or Not?" – that now, I need a reason why I should listen.  In fact, I need a compelling reason.
Some examples:
#Fail – Tostitos
Anyone who knows me, knows I love snacking.  In fact, I would go as far as to say "I Snack Hard" (t-shirt idea anyone?).  I love a good Tostitos chip with salsa, hummus, queso, french onion dip, etc.  The reason I even preface this is because well, I respect that Tostitos has dominated the "dipping corn chip" market.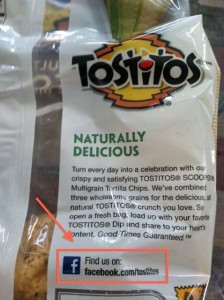 As you can see, on the back of their bag they decided to tell me to "Find us on Facebook".  But why?  Why should I stop eating your product and take out my computer?  They gave me no incentive whatsoever?  Disappointing.
However, being the curious ass brand loyalist that I am – I went to their page.  I expected to see recipes for the best dip ever, hilarious pictures of things people have done with Tostitos, and maybe even a free bag of chips if I decided to spam my friends and "like" them.
Instead I am immediately forced to wait while an interface / video loads.  The first thing I see is "Bringing People Together"….Tostitos mission to make it easier for people to reunite with loved ones (with a picture of 5 female friends).  Are you kidding me guys?  I've spent a good amount of time thinking about this, and legitimately can not think of one even quasi logical connection between delicious dipping chips and this story clearly designed for Lifetime.  Do you not know who your audience is?  Terrible.
Even though I am turned off, I decide to give it 15 more seconds of my life.  I read the first sentence of this story worthy of their home page.  It starts "The story is long and actually involves a total of 5 women….".  A long story?  On Tostitos Facebook page….really?  And now i'm gone, not only am I gone but you will never have a chance to earn me as a "fan" on Facebook again.
#Win – Red Bull & LiveScribe
Red Bull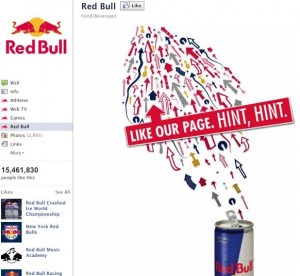 This one is simple. They know their audience and they are clever. When you land on their Facebook Page – they are immediately smart enough to recognize you are not a fan and greet you with this clever image of thousands of arrows popping out of a can of Red Bull.  It made me smile, and thats a "win".  On top of that they have tons of videos, games, and information about their athletes.  All things that a "red bull drinker" might logically be into.
LiveScribe
This team is really doing it right (and I didn't even know what their product was until about 20 minutes ago).  For starters, LiveScribe is a startup which provides "smart pens" which have revolutionized the act of writing (with pen & paper) by recording and linking audio to handwriting.  Essentially enhancing productivity, learning, communication, and making sure you don't forget what you write.
But enough about their product…why did I bite?
Their Facebook page might actually be more useful than their website!  Here is the value their page adds:
You can learn how their products work
You can download "Connect" – An amazing tool that allows your "Smart pen" to integrate with Evernote, Google Apps, Facebook, etc.
Support – they have over 600 of the most common support threads both answered and sortable.  You can ask a question and they will try and find the best answer, or you can simply suggest a new idea for development
You can even buy their products from their Facebook page…and If you aren't yet comfortable "buying" on Facebook they actually point you in the direction of where you can buy their product on other (more well known) sites
Its genius…because its useful.
So I would challenge you today to look at your brands social presence.  Are you actually adding value?  Are you talking AT your customers, or are you giving them a compelling reason why they should listen?
Don't tell a guy eating dip with his friends, watching the NBA Finals, to read a Lifetime story.