As of a few weeks ago (November 18th specifically), I no longer work at Grasshopper.  For those of you who know me, you know this is very much the end of an era / chapter in my life.  In fact, working at Grasshopper became a part of who I was.  I can't tell you how many times I was referred to as "The Grasshopper Guy", "Grasshopper Buzz", or "Ambassador of Buzz".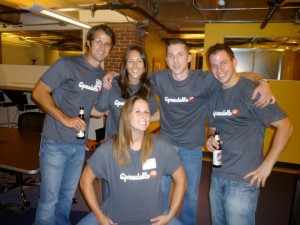 Over my 3 years working there I created what is now known as the Buzz Department.  I was responsible for landing over 550 press mentions, and a handful of very valuable partnerships.  During my time there, Grasshopper was getting over 30% of their signups via word of mouth.  Even more importantly, I would like to think I helped Grasshopper's brand feel more human and approachable.
One thing is for certain, I learned more in the last three years than ever before in my life.  And yes, that means I learned more at Grasshopper than I did from my 4 year degree at Bentley College, a respected business school (sorry Dad).
In closing the door on this chapter of my life, I wanted to share a few lessons I learned about business with you:
Leadership is Crucial
The founders of Grasshopper (David & Siamak) had a life long impact on me.  They gave me a chance, and empowered me to succeed.  But what do I even mean by this?  I mean in my first 2 months of working there they sent me on a trip to San Francisco to pitch and launch Chargify, at the TechCrunch 50.  I mean when I got home from that trip I had a hand written note in my mailbox thanking me for busting my ass.
I saw David Hauser every morning, why take the time to write me a hand written note and mail it to my apartment?  It's because he cares.  David and Siamak more than anything, care about the people that work for them.  When that happens, it makes your employees want to go to bat for you, fight for you, do anything they can to make your company succeed.
At Grasshopper it was always more about leading than managing – which is a really important distinction.  I was never told exactly what to do, but rather in which direction to run.  They let me discover my own path, and make my own mistakes.  They made me feel like I "owned" my job, and I worked that much harder as a result.
Do Not Underestimate Word of Mouth
For those that don't know, word of mouth converts at 20% – Fact (Google it if you want)!  Most websites / marketing channels convert somewhere between 1-2% (if they are lucky).  Word of mouth also tends to have a 75% lower CPA (cost per acquisition) than other forms of marketing.
Wild right?
And most people just write it off as something that "happens", and there is no reason or logic in trying to influence it.  Its not scalable and isn't a good use of time.
I call Bullshit.
One of the most valuable things I learned at Grasshopper was the power of word of mouth.  If you find a fun, genuine, and unexpected way to do something kind for someone else, it will absolutely come back around.  At Grasshopper, I started doing things as simple as sending interesting people who tweeted about us $5 Starbucks gift cards.  I did not ask for anything in return, I just explained how appreciative I was of their support.  Do you know what happened over 85% of the time?  Those people tweeted more about us!  Those people then told their friends, family members, and colleagues about us!
It's important to incentivize & influence good behavior (think Pavlov's Training for entrepreneurs).
People who play hard, work even harder
From Memorial Day to Labor Day at Grasshopper the entire company took (paid) half day Fridays. That means for about 10 weeks in a row you got to go home at 12-12:30 on Friday.  Just take a minute to think how glorious that is…  The reason I bring this up is because I think its brilliant.  I truly believe that people who play hard, work even harder.  Regardless of if we had a half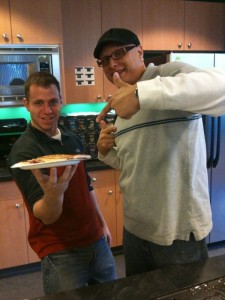 day on Friday or not, everyone was still responsible for getting the same amount of work done.  But, in this scenario we did it with a smile on our face.  That oil change we were dreading trying to find the time to get done, we easily did on Fridays now.  Half day Fridays made our week that much more awesome, and we worked harder (and happier) as a result.  Everyday our design team played an aggressive game of Wii Golf around 3 or 4 pm.  They probably played for a solid 45 minutes straight, and never felt like they had to be worried about time or that they were going to get in trouble. You better believe those were the same guys still in the office at 6, 6:30pm cranking away.
Trust your employees, give them freedom, and you will get rewarded with awesome passionate work.
Environment & Culture Matter
The more and more I am immersed in the startup scene the more I realize that success is almost exclusively based on the people and the execution.  A big part of that though is making sure you create an environment that allows people to succeed.
In fact I think Dropbox is one of the best examples of this.  They really live the "get out of the way" mentality.  The don't tell people how or when to work, and their goal is to make their office a place people like to be.  They allow their employees to build their workstation however they want, with whatever tools they want, and there is absolutely no budget.
There is a great Slideshare all about this from their Founder/CEO Drew Houston here.
At Grasshopper, employees are given a problem, not a process.  This allows people to think for themselves, own the project, and get creative.  Not only does this make your employees enjoy their job more, but you actually end up with a much higher quality results as well.
If you are reading this thinking it wouldn't work and that your employees wouldn't excel in this environment…you probably have the wrong people working for you.
What's Next For Me??
I am taking a shot at my dream.  I am in the process of creating my own company called Apptopia.  I have an office in Kendall Square, Cambridge (the heart of innovation), and I am working on an idea I believe with a partner I respect.  Regardless of if I succeed or fail in the venture, I can now say I tried.  I can now say I did everything I could to create something new, and build a company people wake up and get excited to work for.  For me, that is the dream.
So what is Apptopia?
Apptopia is a business-to-business marketplace designed to help facilitate / broker the sale of mobile apps.  Not in the sense that you buy on the App Store, but rather how you buy a domain on Sedo, a website on Flippa, or anything on Ebay.  Our goal is to connect developers who build awesome mobile apps with business minded people that want to purchase, support, grow, and ultimately monetize that app.  For the first time ever, Apptopia is providing app developers with a legitimate exit strategy.
I'm around and always pumped to have a coffee/beer and talk startups, marketing, mobile apps, etc.
Don't ever hesitate to reach out:
@Jonathanckay and/or Jon (at) Apptopia (dot) com